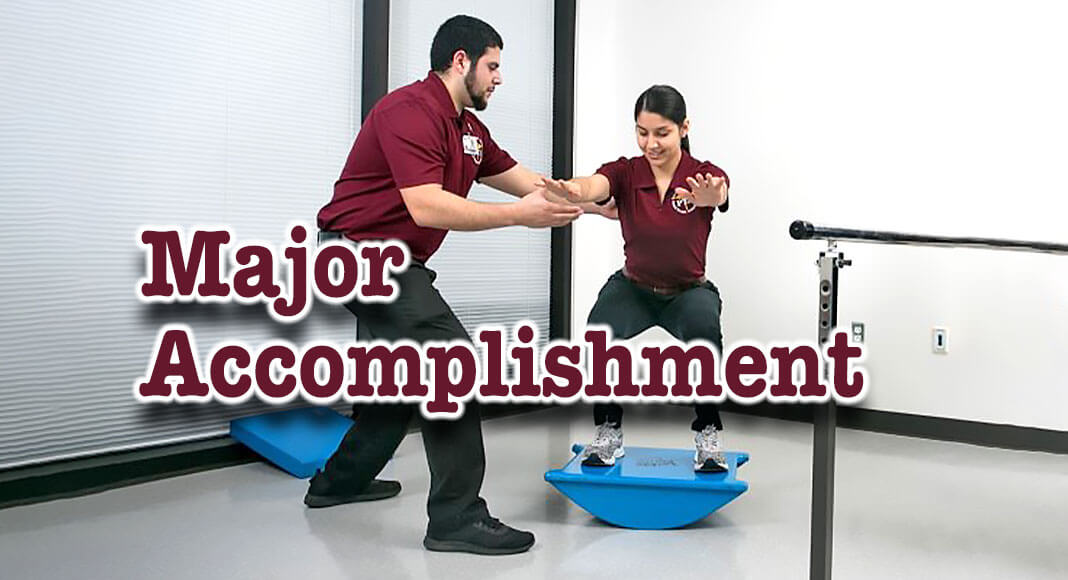 Mega Doctor News
McALLEN, Texas – South Texas College's Physical Therapist Assistant (PTA) program students have done it again – a 100% pass rate on their national exam 23 years running.
PTA program graduates have maintained a flawless track record taking the National Physical Therapy Examination (NPTE), a grueling four-hour, 250-question licensure exam that 17% of PTAs nationwide fail.
The program at STC bucks this trend by not only featuring a perfect ultimate pass rate on the exam, but a 100% employment rate for graduates within one year of graduating.
Those in charge of running the program say the feat represents much more than two decades of perfection, it is fueled by the persistence of the students and faculty.
"We are not working a 40-hour work week. We are working whatever amount of time it takes to ensure that the students have as much opportunity as they can to master their content," said STC PTA Program Chair Diana Hernandez. "If that means that somebody is going to come in early, stay after hours, or work through their lunch with a student, or meet before class, then nobody hesitates to do so. We as faculty set the tone, and when students realize very early on the level of commitment on our side, then they work hard to match that."
Hernandez said the most recent group of graduates had it especially difficult due to the impact of COVID and ensuing restrictions.
In light of the pandemic, PTA faculty had to redesign the 2020 selection process for students as well as the required volunteer requirements since many applicants were unable to complete the 50 hours of volunteer work needed to apply to the program.
"Volunteerism is typically required to help expose candidates to the profession and solidify their commitment to the rigorous two-year program," Hernandez said. "These students completed all application and selection process activities online."
The program's typical 40-hour week was also conducted entirely online for the first year with the exception of small group laboratory sessions, which were completed under the protection of mask and shield.
"Our agency partners continued to provide invaluable support, and all students participated in external practicum experiences on schedule, which were expanded to address the complexities and realities of working with infected COVID patients," Hernandez said. "The PTA program is well-known for being highly challenging under normal circumstances. Needless to say, this unprecedented experience amplified the challenges for all involved, making the 100% pass rate for the PTA class of 2022 that much sweeter."
One of STC's PTA graduates and top students, Lizette Chapa, is now employed at the Orthopedic Sports and Therapy Institute at Doctor's Hospital at Renaissance. She was also among only two PTA students from Texas to represent the state at the invitation-only American Physical Therapy Association's (APTA) Strategic Legislative Fly-In in Washington, D.C. this summer, where Chapa and her peers met with members of Congress on Capitol Hill to advocate for APTA legislative priorities.
"I think I can speak for all of my classmates when I say that we all had to change the way we learned, change our study habits and make adjustments at some point once COVID hit," said Chapa. "One thing that the program does a really good job of instilling in us is that our career involves more than learning facts out of a book. It's about seeing the person as a whole and being able to critically think and problem solve with whatever life throws in front of us or in front of our patients."
Another PTA graduate, Mariah Gonzalez, said she entered the program after graduating with her bachelor's degree in Kinesiology from the University of Texas-San Antonio. Shortly after graduating from STC, Gonzalez said she became employed as a PTA at Evolutions Therapy in McAllen.
"COVID was really rough on us. We are hands-on people, so working with each other but with masks and shields was extremely challenging," Gonzalez said. "We were sweating. It was foggy. It was a mess, and we had to step away and take a breather most of the time, but we were all very dedicated and the professors just told us to trust the process. STC did so much to prepare us for work in the real world."
For more information about STC's Physical Therapist Assistant Program, please visit nah.southtexascollege.edu/pta/