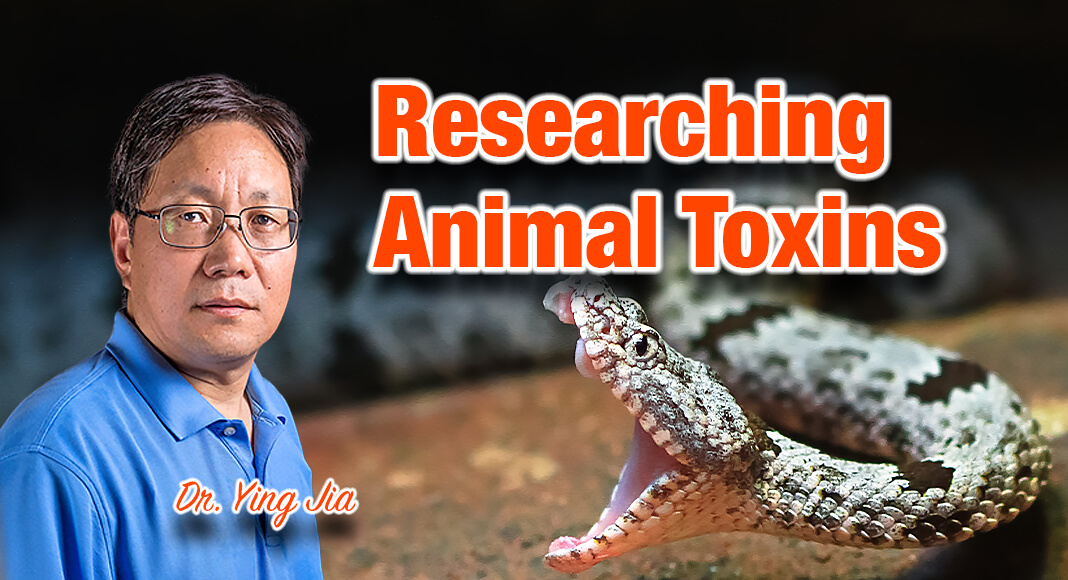 Mega Doctor News
By Maria Gonzalez RIO GRANDE VALLEY, TEXAS – Dr. Ying Jia, lecturer in the UTRGV Department of Biology, has received a grant from the National Institutes of Health (NIH) to research the interaction between snake toxins and human nervous system cell receptors, ultimately for biomedical application. His goal is to detect and verify interactions between animal venom components and human neural cell receptors, and then generate venom molecules as tools to study human neurological disorders – among them, Alzheimer's Disease, Parkinson's Disease, schizophrenia, certain epilepsies, or nicotine addiction.
Jia's research project – "Identifying the Interactions between Animal Toxins and Human nAChRs: The Role of Snake PLA2 in Interacting with nAChR alpha Subunits" – will receive $349,647 in federal funding from the National Institute of Neurological Disorders and Stroke (NINDS), which is part of the NIH. The funds will support salaries and wages, equipment, materials, supplies and travel through June 2025.
Jia's research goal is to create venom-molecule tools to study human neurological disorders and provide valuable resources for the scientific community, and UTRGV faculty and students, for biological research and biomedical applications.
"This research project will provide a unique tool for high-throughput and systemic investigation of nAChR-related human neurological disorders," Jia said. "It will also create many opportunities for UTRGV students to improve their research skills in biological, biomedical and computational sciences."
Dr. Robert K. Dearth, professor and chair of the UTRGV Department of Biology, said the grant will enhance the ability to recruit talented faculty and students, as well as increasing UTRGV's national visibility in its pursuit of R1 research institution status.
"Grants of this caliber put UTRGV one step closer to its goal of becoming a Carnegie Classified Research I university, and signifies that our biology faculty are engaged in the highest level of research in the United States," Dearth said.
"It is rewarding to see one of our faculty succeed at such a high level, motivating more faculty to pursue external funding and increasing the amount of meritorious research at UTRGV," he said.
In addition, the project will create numerous opportunities for undergraduate students to improve their skills in biomedical science by providing research experiences that will make them highly recruited by employers, professional schools and graduate schools, Dearth said.
"This grant reflects Dr. Jia's passion for improving research and educational opportunities for UTRGV students," he said.
Jia said UTRGV is committed to providing research opportunities, and the support of the National Institutes of Health helps make those opportunities a reality.
"I am grateful for the support from NIH and NINDS, and thankful to UTRGV for allowing me to conduct research here," Jia said. "I am hopeful that this grant can establish a new discipline/research field – toxinology/toxicology – at UTRGV."
To view Jia's investigation of the possible pharmaceutical benefits of snake venom, visit: https://youtu.be/yFenUJs5YSc
RELATED LINK: UTRGV team works to unravel medicinal benefits of snake venom