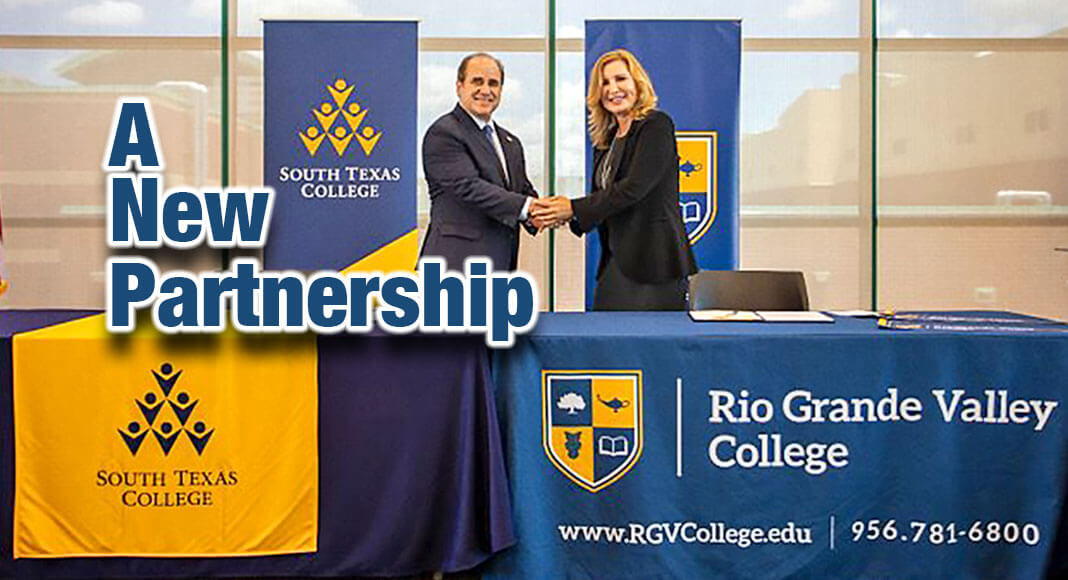 Mega Doctor News
MCALLEN, Texas – The interests of competing institutions are not nearly as important as ensuring the health care needs of communities in the Rio Grande Valley, according to leadership with South Texas College.
The Physical Therapy Assistant program at South Texas College announced its partnership with Rio Grande Valley College in Pharr, a small for-profit institution focused on vocational occupations, in a Memorandum of Understanding (MOU) signing ceremony Wednesday.
Focused above all on providing skilled medical professionals to the region, STC says it will put aside any misconceptions of working with a rival college while that institution awaits accreditation for key programs.
"While the partnership may be unorthodox, it's necessary to better serve the health care needs of our community," said STC President Ricardo J. Solis, Ph.D. "We must always think regionally, and think of the greater good for the community we serve."
The Physical Therapist Assistant program at RGV College is in the middle of its accreditation process through the Commission on Accreditation in Physical Therapy Education (CAPTE), but with the need for medical professionals at a critical level, the college opted to partner with RGV College to provide the courses their students need to obtain licensure and enter the workforce.
The accreditation process can take up to two years.
The MOU between the two institutions streamlines PTA students' transfer of "general education" courses from STC to Rio Grande Valley College. Through the agreement, general courses students take at STC can be matched with courses required for an associate degree program offered at RGV College.
The courses that RGV College students will be taking at STC include Composition, Anatomy & Physiology, Lifespan Growth and Development and Public Speaking.
"So far the job market has been very steady with STC graduates easily able to find employment," said STC Physical Therapist Assistant Department Chair Diana Hernandez. "I think the partnership that has been initiated today provides for RGV College's general requirements to facilitate their progress, and this PTA program will address that with both STC and RGV College potentially providing skilled therapist assistants into the workforce."
STC's Physical Therapist Assistant program features one of the most successful track records for students at STC including a flawless pass rate on the licensure exam 23 years running, as well as a 100% employment rate for graduates within a year of passing.
The program has also had numerous former students accepted into doctoral programs for physical therapists, who have cited the rigor of the program as key for their success.
"To be successful in this program you have to go for it, and you have to want to do this because while it's not easy, the journey itself is so worth it," said Desi Reyes, a PTA graduate who is currently among four students from STC accepted to the prestigious Physical Therapist Assistant to Doctor of Physical Therapy Bridge program at University of Texas Medical Branch in Galveston.
PTAs are one of the top 15 fastest-growing careers in the country, according to Insider Monkey. Growth for the profession in Texas is estimated to jump to 7,150 by the end of 2022, representing an increase of 38% over the last decade. Meanwhile, PTAs in Texas on average earn $69,000+, among the highest in the nation.
"I have been talking with (president) Dr. Solis and we spoke about his vision as a new president and what I have been forming at RGV College and how we align together. We are here to build these career paths for our students," said RGV College CEO, founder and school director Annabelle Palomo, Ph.D. "There is such a shortage in the medical field so we can never put out enough students. There is always enough for all of us to work together and start forming these partnerships for the betterment of the students. We look forward to a great partnership."
For more information about STC's Physical Therapist Assistant Program please visit nah.southtexascollege.edu/pta/ for more information.