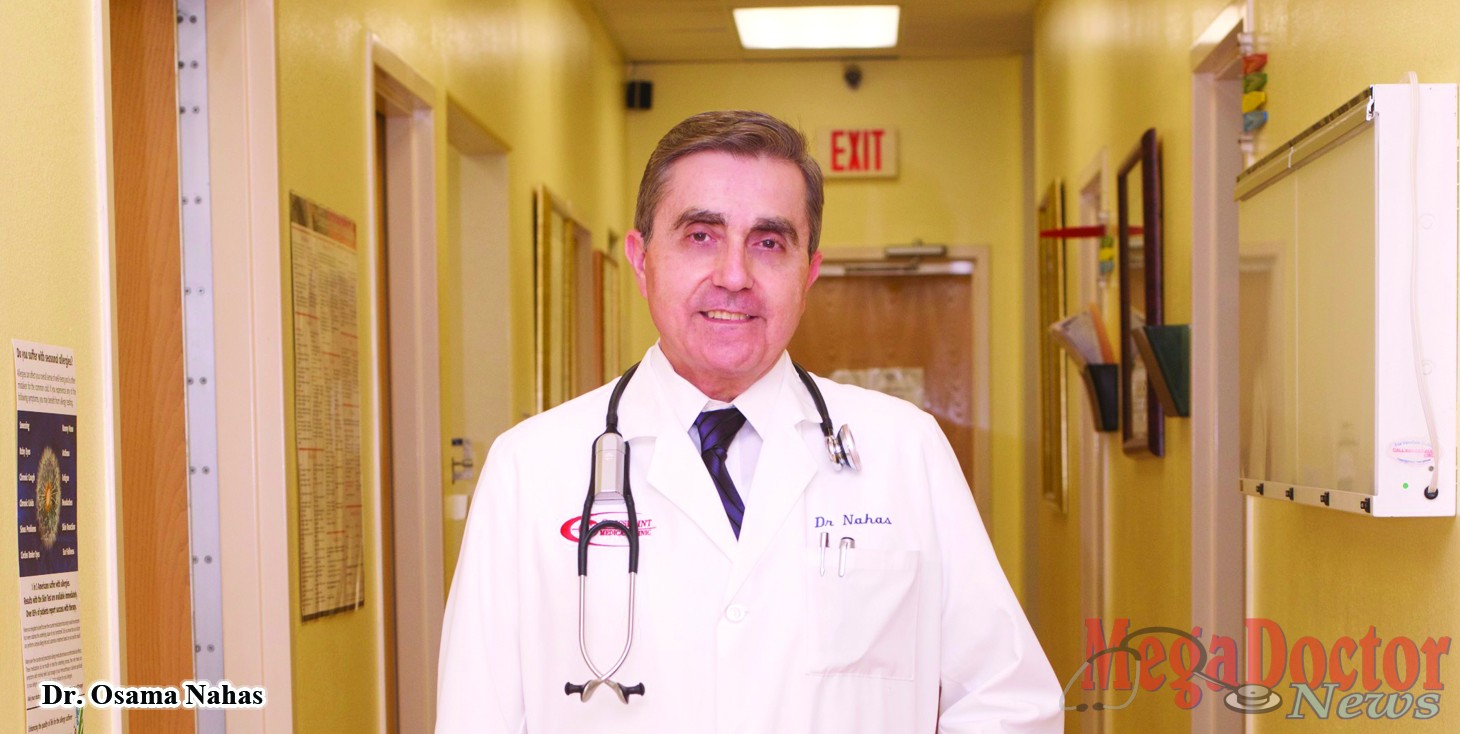 By Roberto Hugo Gonzalez,
Publisher of Mega Doctor News –
Dr. Osama Nahas, an Internal and Occupational Medicine Specialist, has become our new Mega Doctor of this month. He is a unique physician in every aspect. First he provides a medical procedure that becomes an alternative to back surgery. He is an experienced physician with thirty-five years in the medical field.
In addition to the alternative he offers for back injuries, Dr. Nahas treats a variety of other conditions including anemia, anxiety, arthritis, asthma, chronic obstructive pulmonary disease (COPD), depression, emphysema, heart disease, high cholesterol, osteoporosis, high blood pressure, diabetes, and general internal medicine diseases and conditions. Get to know him; inside this issue there is more about his medical career.
- Advertisement -

Good news, all death rates for all cancers in the United States are down, except liver cancer. For many years, researchers and physicians have worked diligently in the race to find the solution to what has become one of the most formidable diseases of our times.
The latest Annual Report to the Nation highlights the period 1975-2012 providing the best perspective on long-term trends in cancer death rates among all races combined. The period 2008-2012 was used for describing the current U.S. burden of cancer, and the period from 2003-2012 was used for describing trends in cancer incidence and death rates for five major racial and ethnic groups.
Finally, the period 1992-2012 was chosen to provide the best perspective on long-term incidence trends. All rates in the report are per 100,000 people in the U.S. population.
I want to thank the National Cancer Institute for sharing this important research that gives a winning scientific glance at this devastating disease.  Inside this issue, we present this annual report that includes infographics that easily tell the story.
MEDICAL ALERT: The United States is currently experiencing an epidemic of prescription opioid misuse and overdose. Increased prescribing and sales of opioids — having quadruped since 1999 — helped create and fuel this epidemic. Inside this issue we present the new guidelines for prescriptions of this pain killer drug.
On another note, I had the pleasure of meeting with Dr. Armando Osio with WellMed Medical Management, Inc. I learned that he specializes in Family Medicine and discovered his humble beginnings to be inspirational. Dr. Osio's personal dedication and excellent work ethic as he practices his profession are indeed admirable. He is a physician who takes the time to get to know his patients and understands that prevention is important in order to defeat diseases, especially Diabetes. Read more about him in this issue.
Congratulations to PA students Benny López, Arlene Cano, and Megan Cástillo. They are members of the victorious team of Vaqueros who competed in the Medical Challenge Bowl, a Jeopardy-style medical quiz competition, held on February 20 of this year in Houston during the 2016 Texas Academy of Physician Assistants (TAPA) 41st Annual Spring CME Conference.
Team members said they were especially proud to have won this year, since the current TAPA president is Elias Villarreal, the clinical associate professor and academic coordinator for UTRGV's PA program. Read more inside this issue about their efforts to win this competition against other top universities in the USA.
Doctors Hospital at Renaissance (DHR) is a health system that continually brings new and previously non existent medical services to meet the community's need. They pair with top medical groups with the same frame of mind to serve the community and save lives.
This time they created, the first pediatric cardiothoracic surgical partnership between DHR and the University Health System and UT Medicine, the physician practice of The University of Texas Health Science Center San Antonio.
Inside this issue find the rest of the story… MDN