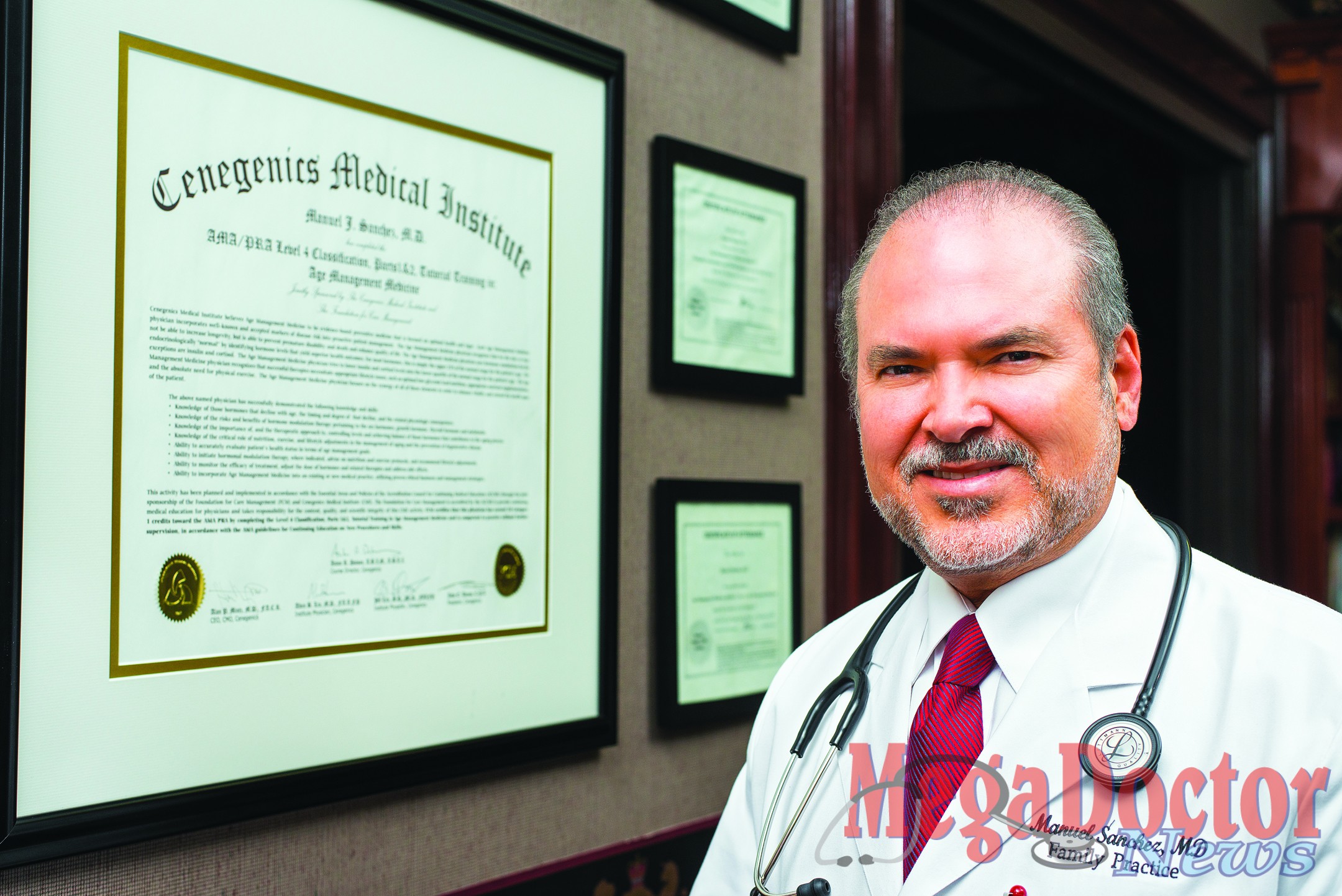 Eliminate Pain so You Can Overcome Obstacles to Lead an Active Life
Mega Doctor News – 
By Roberto Hugo Gonzalez,
For years, Knee Pain has been a frequent nightmare for people suffering with Arthritis of the Knee.  Something as simple as getting dressed, tying shoelaces, or walking to the car might be painful and difficult when one suffers with Arthritis of the Knee. However, with the right medical treatment, Arthritis of the Knee can be managed and your life can become enjoyable again.
Today, Dr. Manuel J. Sanchez of the Knee Pain Clinic of McAllen brings to the Rio Grande Valley a breakthrough treatment system that, in most cases, ends the pain associated with Arthritis of the Knee that develops gradually and becomes an obstacle for people to lead an active life.
The Knee Pain Clinic offers services to patients with degenerative arthritis of the knee, also known as osteoarthritis, which has been treated with anti-inflammatories and pain pills and are still experiencing pain. Dr. Sanchez of the Knee Pain Clinic has special interest in those who are considered for possible surgical intervention (total knee replacement) because in many instances he can help them achieve significant improvement that will push the surgery back for years.
Dr. Sanchez pointed out that his approach is basically simple but effective. "Once we have a clinical diagnosis and confirmatory x-rays, the patient goes thru a series of virtually painless knee injections of an FDA approved natural substance called Hyalgan that is made in Italy which was originally isolated from the rooster's comb."
He said that this breakthrough treatment uses a substance that contains a highly purified Sodium Hyaluronate and provides natural pain management of the knee. "We also use some physical medicine treatments to enhance the knee function and improve the muscle strength and motion," Dr. Sanchez added.
An Italian company developed this product, which has been around for many years. It purifies the Sodium Hyaluronate in such a way that makes it the ideal viscosupplementation material for the knee.
Dr. Sanchez told Mega Doctor News that our bodies naturally create a solution to keep our knees and other joints lubricated. However, the degenerative process of osteoarthritis reduces the ability of this natural lubricant to protect the knees. Consequently you may experience reduced mobility and increasing pain.
"Our injectors use the FDA approved treatment Hyalgan, and it is covered (or paid for) by Medicare and most insurances.
When injected into the knee, the Hyalgan solution helps to cushion and lubricate the knee joint, nourishing the cartilage cells for natural pain relief as it decreases the inflammation process. This solution helps restore normal function to the joint, including its natural lubrication, thus patients experience less pain and are able to enjoy a more active lifestyle.
Dr. Sanchez pointed out that most people that visit his clinic for evaluation and treatment have already tried various forms of these treatments. Since they no longer benefit from these previous attempts, they are ready to try something different such as a cortisone shot or a series of Hyalgan injections.
"Physical medicine treatments or physical therapy may also be tried initially and has a role in the management of knee pain. The ultimate and last treatment that is offered, if the severity of pain is there and the knee hasn't responded to other therapy modalities, then surgical intervention is contemplated. This is reserved for only those few select patients with very advanced disease that have a clear resistance to physical therapy and medicine," he said.
According to Dr. Sanchez, the Federal Drug Administration (FDA) cleared this new treatment aimed at helping those with knee pain. "This new treatment is a natural scientific answer for all those who think that surgery, dietary supplements, and medications are the only option to eliminate knee pain."
USA statistics indicate that over 100 million Americans suffer from knee and joint pains, in fact, pain accounts for about 25% of all visits to primary care doctor's offices.
Dr. Sanchez formed the Knee Pain Clinic in order to serve everyone that has been suffering because of knee pain. He has a dedicated team of health professionals that work passionately for the wellbeing of the patient. "We use a combination of treatments that help decrease the pain and improve the function of the tissues of the knee joint and help feed the chondrocytes, which are the live cells of our cartilage. This substance helps improve the nutrition of these cells, which in turn helps them work better and produce good lubrication of the joint," he said.
He explained that the results might vary; most patients feel an immediate reduction in the amount of pain and keep improving, and return to normal activities in weeks. "Of course, as you well know, results cannot be guaranteed in medicine," he said.
Dr. Manuel J. Sanchez is a trusted and well-known medical doctor that has been practicing for 35 years in the Rio Grande Valley. Having established one of the largest primary care offices in South Texas, Dr. Sanchez is always at the forefront of medical innovations and the implementation of procedures that can make a huge difference in the life and health of our citizens, while keeping with his basic premise of saving patients time and money as well as inconvenience.
Dr. Sanchez uses high-tech medical equipment and decades of experience to pinpoint problem areas with extreme accuracy. Viscosupplementation is injected into the knee and bonds with naturally occurring joint fluid to create a lubricating and cushioning layer. It also reduces pain, inflammation, and swelling of the joint and most patients compare the treatment to getting a flu shot and report little pain or discomfort.
His philosophy of avoiding inconvenience to his patients, prompted the opening of a full service in-house Laboratory. He also started providing LASER surgery for skin lesions more than 20 years ago, as well as the DEXA scan for the diagnosis and treatment of Osteoporosis. He has used equipment to diagnose Diabetic and Autonomic Neuropathy, and Vertigo treatment without drugs.
In early 1980s, Dr. Sanchez' advanced insight introduced the one-stop-shop concept in medicine as a result of identifying the medical needs of this community.
Today, Arthritis of the Knee has a very unique challenger and that is Dr. Sanchez and his healthcare team. Dr. Sanchez' philosophy has always been to provide his patients with the most compassionate and innovative medical care. It is because of his unique insight that we have chosen Dr. Manuel J. Sanchez as the Mega Doctor for this issue of Mega Doctor News.
The Knee Pain Clinic is located on 501 N. Ware Rd. in McAllen, Texas; call 956-687-8531 to make an appointment. 
About Dr. Sanchez
Dr. Sanchez says, "I have been married for forty years to my beautiful wife Eunice, and we have 2 daughters and 2 sons."
He was born in Mexico City and his parents Raul and Yolanda Sanchez later moved to California. His father, who is a pastor, taught him to conduct himself with honesty and integrity.
Dr. Manuel J. Sanchez earned a Bachelors degree in Biological Sciences from the Universidad de Montemorelos in Nuevo León, México in 1970. He did medical externships in Gastroenterology with Dr. Irving Klasky in Encino, California; in Internal Medicine with Dr. R. Chernenkoff in Northridge, CA; and in General Surgery with Dr. David Penner in Northridge, CA. during 1974 and 1975. He earned his Medical Doctor degree from the Universidad Autónoma de Guadalajara, México in 1975. He completed his post-graduate internship in the Saskatoon City Hospital in Saskatoon, Saskatchewan, Canada. Dr. Sanchez completed his social service year in Reynosa Tamaulipas, México. He currently holds US medical licenses in the states of Texas and Wyoming.
Dr. Sanchez has 35 years of experience in family practice medicine.  He is Board Certified by the American Academy of Physician Specialists; and is a member of the Texas Medical Association; and member and treasurer of the American Academy of Family Physicians for the past 12 years. He is also a Diplomat of the American Academy of Anti-Aging Medicine and at the Cenegenics Medical Institute.
He owns and operates the Family Practice Center that offers full service adult medicine services, and a clinic that houses several specialties under one roof including: The Dizziness and Fall Prevention Clinic; the Lower Back Pain Center; the Valley Osteoporosis Center; a full service Allergy Clinic; and now the Knee Pain Clinic.
Symptoms of Arthritis of the Knee:
Pain in a part or the entire knee
Limited or decreased range of motion
Stiffness of the knee joint, especially in the morning
Deformity of the knee joint as time progresses
Causes of Osteoarthritis:
Some hereditary influence
Bad posture and misalignment of the joint
• Repetitive trauma of the knee