- Advertisement -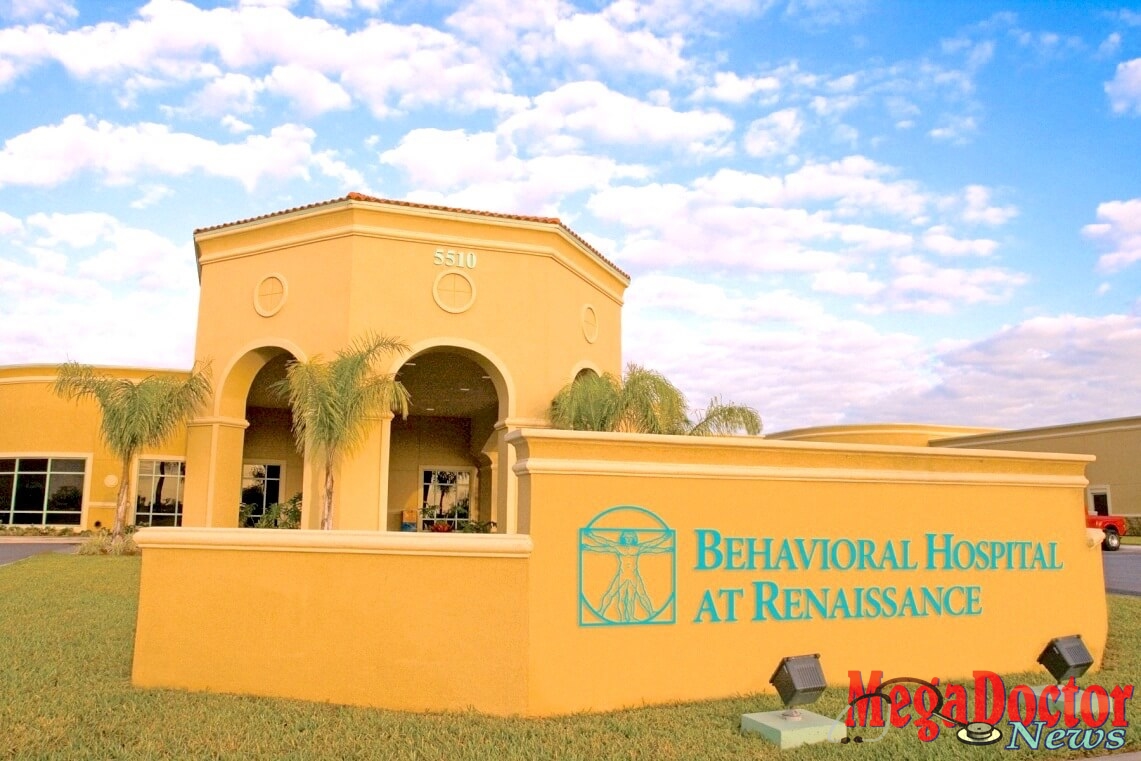 Mega Doctor News
Edinburg, TX — The Behavioral Hospital at Renaissance invites the community to join in its recognition of May Mental Health Month. This year's theme, "Risky Business," encourages us to educate ourselves and others about habits and behaviors that increase the risk of developing or exacerbating mental illness. It is important to remember that mental health is essential to everyone's overall health and well-being, and mental illnesses are common and treatable. Yet, people experience symptoms of mental illnesses differently- and some engage in potentially dangerous or risky behaviors to avoid or cover up symptoms of a potential mental health problem.
"It is important to understand early symptoms of mental illness and know when certain behaviors are potentially signs of something more," said Dr. Jose Igoa, Medical Director at the Behavioral Hospital at Renaissance. "We need to speak up early and educate people about risky behavior and its connection to mental illness – and do so in a compassionate, judgment-free way."
Research shows that by ignoring symptoms, we lose ten years in which we could intervene in order to change people's lives for the better. Speaking out about what mental illness feels like can encourage others to recognize symptoms early on in the disease process, and empower individuals to be agents in their own recovery.
One in five American adults will have a diagnosable mental health condition in any given year yet only 41% of them will receive treatment. Therefore, Dr. Igoa asserts, "This Mental Health Month, we are encouraging everyone to learn the signs, ask for help if needed, address symptoms early, and plan an appropriate course of action on a path towards overall health."
One of the quickest and easiest ways to determine whether you are experiencing symptoms of a mental health condition is to undergo a mental health assessment. In celebration of Mental Health Month, the Behavioral Hospital at Renaissance will be offering health assessments free of charge with a referral. All assessments will take place at Behavioral Hospital at Renaissance, located at 5510 Raphael Drive in Edinburg, TX and are available 24 hours a day, seven days a week. For more information and to register, call 956-362-HELP (4357).
There is a wide variety of treatment options for mental illnesses ranging from talk therapy to medication to peer support, and it may take some time for a person to find the right treatment or combination of treatments that works best for them. But when they do, the results can be truly amazing and life changing. The Behavioral Hospital at Renaissance wants to help people learn what they can do both to protect their mental health and know about the benefits that come with talking about mental illness. To learn more about the free screenings hosted by Behavioral Hospital at Renaissance, call 956-362-HELP (4357).